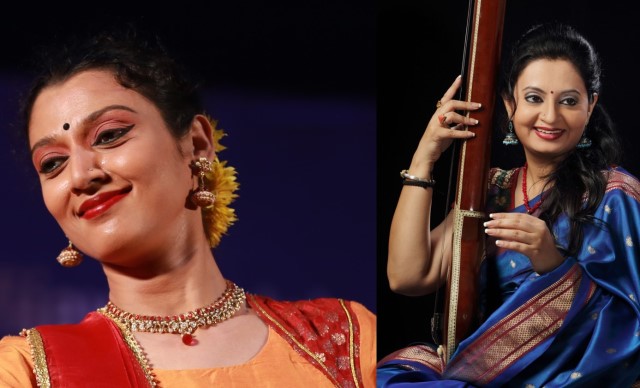 PUNE: People of Pune will get a chance to witness and enjoy a musical extravaganza during the four-day festival 'SwaraZankar', which is organized by Violin Academy, from January 5-8, 2023, at Pandit Farms on D P Road. This is the 14th edition of the SwaraZankar festival and it will start at 5 PM on all days.
This was announced by Violin Academy founder and ace violinist Pandit Atulkumar Upadhye at a Press Conference on Wednesday. Violinists Rajas Upadhye and Tejas Upadhye, who are organizers of 'SwaraZankar' were also present on the occasion.
The festival will begin on January 5th with the performance of vocalist Dr. Meeta Pandit, an exponent of Gwalior Gharana. Meeta is the daughter of Pandit Laxman Krishnarao Pandit, a veteran singer of the Gwalior Gharana.
Music-loving Punekars will then witness a performance by Santoor player Rahul Sharma, son and disciple of Santoor Maestro late Pandit Shivkumar Sharma. The first day will conclude with a performance by national award-winning vocalist Rahul Deshpande, grandson of Pandit Vasantrao Deshpande. Deshpande will present his show 'Youtube collectives', a special program on light music.
The second day – January 6th will begin with a performance by internationally acclaimed vocalist Nabanita Chowdhary, a disciple of the late Pandit Rajan and Pandit Sajan Mishra. The highlight of the evening would be a melodic rhythm presented by the trio of percussionist Selvaganesh, Padma Shri Tabla player Pandit Vijay Ghate, and Kathak exponent Sheetal Kolwalkar. The day will conclude with the performance of Jaipur-Atrauli Gharana's versatile vocalist Vidushi Ashwini Bhide-Deshpande.
On January 7th, ace vocalist Sanjeev Abhyankar from Mewati Gharana will mesmerize the audience. Abhyankar is a disciple of Sangeet Martand Pandit Jasraj. Then there will be performances by Pandit Atulkumar Upadhye and Sitar Maestro Padmashri Ustad Shahid Parvez and the evening will end with a stunning duet by Pandit Atulkumar Upadhye and Ustad Shahid Parvez, which will be a treat to music lovers. They are performing together after 10 years.
On the final day – January 8th, Punekars will witness Ghazals by famed singer Padma Shri Hariharan, which will be followed by a performance by classical vocalist Padma Bhushan Ustad Rashid Khan and the two will present a duet, their first joint performance in Pune.
The festival is organized in association with MIT World Peace University, Badhekar Group, Mascot, Abhinav Group, Lokmanya Multipurpose Co-operative Society, BURGE, VJ Developers, PNG Jewellers, Oerlikon, Kaka Halwai, Wilo Pumps and Girikand Holidays. This is a ticketed festival.