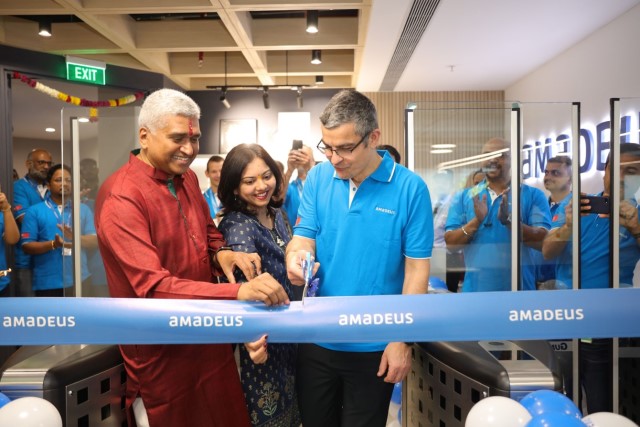 Amadeus Labs Pune will serve as a satellite center to expand Amadeus Labs' engineering and R&D activities in India.
The Pune center will focus on developing cutting-edge travel & hospitality technology solutions.
The new center will also enable Amadeus Labs to expand its headcount in India
PUNE: Amadeus, the largest technology provider for the travel industry, has announced the opening of their new engineering site in Pune, Maharashtra. This facility will help expand Amadeus Labs' engineering and R&D activities in India. The new center is part of Amadeus Labs' ongoing expansion in India and underscores the company's commitment to innovation and digital transformation. The center will focus on developing cutting-edge travel technology solutions and enhancing Amadeus' existing products and services in India and Asia Pacific regions.
Amadeus Labs has a strong presence in India, with an existing R&D center in Bengaluru with over 3000 engineers. With the launch of the new center in Pune, Amadeus Labs will continue enhancing existing and developing new technology solutions catering to hospitality organizations across the country. Amadeus Labs Pune is located in one of the most preferred and upscale locations of Pune – Kalyani Nagar.
With this expansion in Pune, we are reinforcing our commitment to investing in India and harnessing the country's vast pool of talent in engineering and technology. The opening of this new facility is an opportunity for Amadeus Labs to enhance its technological prowess in the country, in addition to the travel industry", said Mani Ganeshan, Head of Engineering – Travel Distribution and Centre Head, Amadeus Labs Bengaluru. "This expansion will help us to better serve our customers, by providing them with innovative solutions that create exceptional traveler experiences. Amadeus Labs Pune will play a pivotal role in driving our global R&D efforts and help us stay at the forefront of the travel technology industry in India & the Asia Pacific regions."
The center will be staffed by experienced engineers who will be responsible for developing and implementing innovative solutions for Amadeus' customers in India and worldwide, with a focus on artificial intelligence, data science, and cloud-based technologies. The employees will work closely with Amadeus Labs' existing teams for driving breakthrough technology development and strengthening its technology solutions for the hospitality industry.
Amadeus Labs began its journey in India in 2008, setting up its first office in Bengaluru which evolved into the second-largest R&D center in the Amadeus universe with over 3000 of the best minds in the country shaping the future of travel. Amadeus Labs has consistently invested in major technology areas such as Cloud, Open Source, Big Data, APIs, PaaS, etc., to create innovative solutions for the travel industry. Through the years, Amadeus Labs has transformed India's travel technology infrastructure alongside several industry leaders. Amadeus' partnership with Microsoft has accelerated Amadeus' journey to the cloud revolutionizing the development of technology and ushering in a new era of travel innovation.
As a global center of competency for advanced travel and hospitality solutions, Amadeus Labs in India will continue to leverage local expertise to provide end-to-end, innovative, and cost-effective solutions. Amadeus Labs is committed to making its India operations more robust and holistic by strengthening commercial and engineering activities.