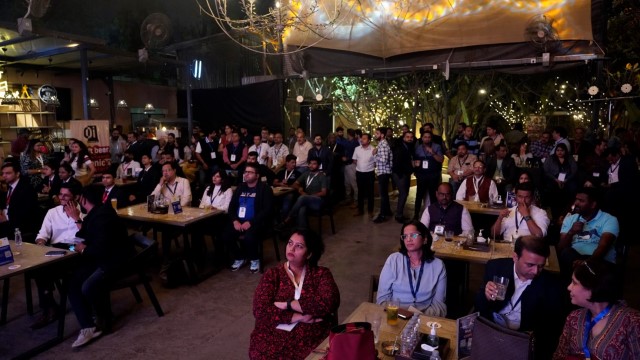 Startup. Sustain. Succeed – Learn from Experts
PUNE: The Pune Chapter of the National Restaurant Association of India took pride in hosting an official gathering to accredit the celebrated career of one of the most venerable Indian Entrepreneurs – Mr. Anubhav Dubey recently powered by Dotpe. The session was hosted in One Lounge, Koregaon Park. The event turned out to be extremely successful with around 173 prominent restaurateurs from Pune in attendance.
The Kulhad-man of India had many inspiring thoughts to share with the audience. Dubey spoke of his journey from an ordinary 22-year-old student to becoming India's most influential entrepreneur with over 420+ outlets across India. How he overcame all the roadblocks and hardships that came his way was extremely inspiring. The attendees received a new zeal of inspiration, purpose, and encouragement to always do the right thing even if that means stepping out of their comfort zone.
The event began around 8:00 PM. The arrival of guests was followed by a warm welcome note from the Treasurer of the NRAI Pune Chapter – Mr. Nicky Ramnani. Following the welcome note was a marvelous performance by The Taal Project whose performance lit up the event. The session was then taken ahead by Mr. Lalit Ahuja – the head of Enterprise Sales at DotPe, as he spoke about the know-how of the brand.
Followed by the presentation was the main event which was hosted by the very talented moderator Ms. Saili Jahagirdar. A brief Question and Answer session with Mr. Dubey gave the audience a glimpse into his life story. This session was followed by a quick rapid-fire round that kept the audience hooked to the event until the end. The mic was then handed over to the audience and they were allowed to directly ask questions to Mr. Dubey about his life which proved to be a learning experience for all the attendees.
NRAI Pune Co-Chapter Head Mr. Kevin Tellis then thanked the guests and attendees and the session ended with a scrumptious dinner. The audience thoroughly enjoyed the event and attained immense satisfaction from the valuable additions to the program.