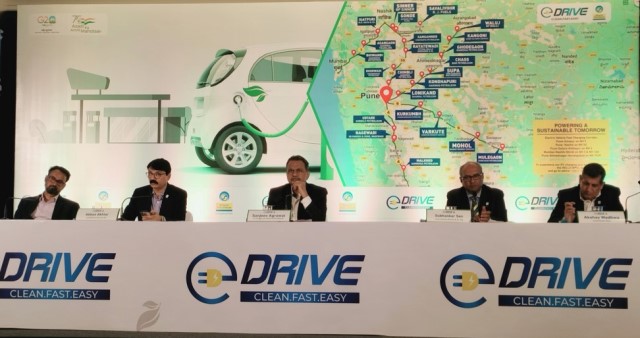 With 30 KW fast charging stations installed at our Fuel Stations, six highways (highways numbers) have been converted into electric corridors
These corridors will remove the range anxiety of electric vehicles owners, driving long distance
Fuel Stations offer safe stoppage points for EV charging, along with clean toilets, and restaurants, ideal for driving break
BPCL will convert 200 National Highways by March 31st, 2023 into electric corridors
Create 2000-plus employment opportunities
PUNE: Bharat Petroleum Corporation Limited (BPCL), a 'Maharatna' and a Fortune Global 500 Company, today announced the launch of EV Fast-Charging stations on six highways in Western India. These six highways are –
Pune-Ahmednagar-Aurangabad – 240 KMs
Pune-Solapur (4 ROs), 250 KMs
Pune- Nashik (4 ROs), 200 KMs
Pune-Kolhapur (3 RO s), 225 KMs
Mumbai- Nashik (3 RO s) 200KMs and
Nashik- Shirdi (3 RO s), ​90 KMs
The EV fast chargers at BPCL Fuel Stations recharge EVs in just about 30 minutes giving a driving range of upto 125 kilometers, therefore the distance between the two such facilities at highways has been kept within 100 kilometers.
So far, BPCL has converted ​6 highways into electric corridors, and going forward, by March 2023, 200 highways will be covered with Electric Vehicle Fast Chargers under the brand eDrive which carries the tagline Clean. Fast. Easy, to support and accelerate the EV growth in the country.
These Fast EV Charging Corridors were inaugurated by Shri P.S. Ravi, Executive Director (Retail) in presence of S. Abbas Akhtar, CGM (Brand & PR), Subhankar Sen, CGM (RETAIL INITIATIVES & BRAND), RETAIL HQ, Akshay Wadhwa, HEAD (RETAIL), WEST.
The fast chargers follow the CCS-2 protocol and are a part of BPCL's initiative to address the range anxiety of electric vehicle owners.
Speaking at the launch, Shri. P.S. Ravi, Executive Director I/c (Retail), BPCL said "We at BPCL are constantly striving to align ourselves with the nation's vision to enhance the clean mode of mobility and reduce dependence on fossil fuels. We are steadily moving towards converting 7000 of our conventional Retail Outlets into Energy Stations which is part of a comprehensive decarbonization strategy to support and prioritize sustainable initiatives. We are setting up fast-charging highway corridors to eliminate the range, discovery, and time anxiety of EV customers traveling on highways. 400 such corridors by next year will cover almost every part of the country."
All EV customers will be able to use the EV fast charging stations via a pay-per-use online service. The fast chargers can be self-operated without any manual assistance through support staff will be at hand when needed.
Bharat Petroleum Fuel Stations offer the consumers added convenience of clean and hygienic washrooms, cash withdrawals, safe and secure parking while charging, free digital air facility, 24-hour operations, and much more. Select fuel stations also offer Nitrogen filling facilities. BPCL has digitized the entire EV charger locator, charger operations, and transaction process through the HelloBPCL app for an online hassle-free and transparent user experience.
Several of Bharat Petroleum's highway fuel stations also offer hygienic food through its strategic alliances with leading brands such as McDonald's, A2B, Cube Stop, Café Coffee Day, and other local outlets. Bharat Petroleum has also rolled out its chain of In & Out convenience stores at key fuel stations on highways for added convenience to its customers.