A display of paintings, 'Ways to Remember' themed around memories. Featured artworks are by adult artists and teachers of VCW Academy of Fine Arts.
PUNE: Art connoisseurs will greatly enjoy the painting exhibition 'Ways to Remember' organized by VCW Academy of Fine Arts as it celebrates its 25th year of mentoring art. A varied collection of paintings by the ABCD batch, namely 'Adults Batch Can Draw' of VCW Academy of Fine Arts is set to be inaugurated at the city's Raja Ravi Varma Art Gallery, Ghole Road on the special occasion of Teacher's Day, September 5th. This group art exhibition is jointly supported by the Art Pune Foundation. Art lovers and enthusiasts can visit it from 5th to 10th September between 11 am to 7 pm. Additionally, interactive sessions with Researchers and Experts about Innovative Education, Art, and Archaeology will also be conducted during the exhibition days.
Entry to the exhibition and all the interactive sessions is free and open to all.
Special guests like Gangadharan Menon, a recipient of over 50 national and international awards, renowned writer, teacher, and painter, Prof. Rajani Paranjpe, founder of Doorstep School, and Vijaya Dilip Chitre will be present at the inaugural ceremony.
The paintings of adult students and faculty members of VCW Academy of Fine Arts are themed around memories, and how art has helped them to rekindle their creativity. This ABCD batch of students has adults from different professions barring no age limit. Interestingly, this batch has more mothers and senior citizens, along with their oldest student who is 84 years old.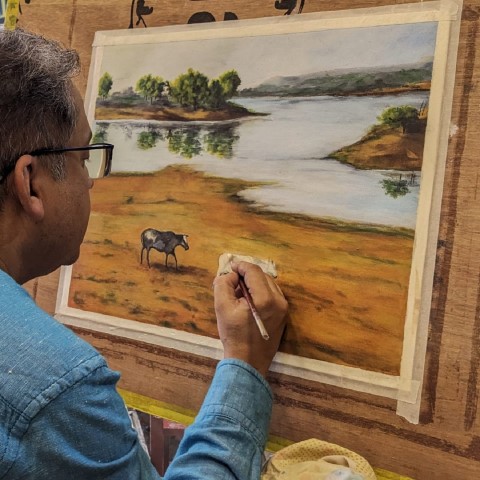 To honor VCW's unique and illustrious contribution to art education, special dialogue sessions with experts who are renowned for their innovative teaching methods are being organized from 5 to 6 p.m. on the given days. A workshop on Natural Learnings for Grandparents will be held on Wednesday, 6th September by Ranjana Baji, writer and researcher. On Friday, 8th September, Dr. Anagha Kusum, visual anthropologist and educator will conduct an interactive session on Art and Archaeology. Renu Gavaskar, writer, educator, and social worker will be involved in conducting an interactive session on parenthood and nurturing children on Saturday, 9th September.
While expressing her thoughts about art, Minoo Sadwelkar said, "Art and painting help in relieving stress. Art allows you to freely express yourself and experiment with it. It knows no age and limits and it does not even judge you!" About the exhibition, she highlighted, "We believe that an artist breathes within each one of us. While VCW Academy of Fine Arts started off with teaching children, many adults approached us, seeking guidance to restart their artistic endeavors. This exhibition celebrates the journey of our adult students from various walks of and stages of life."