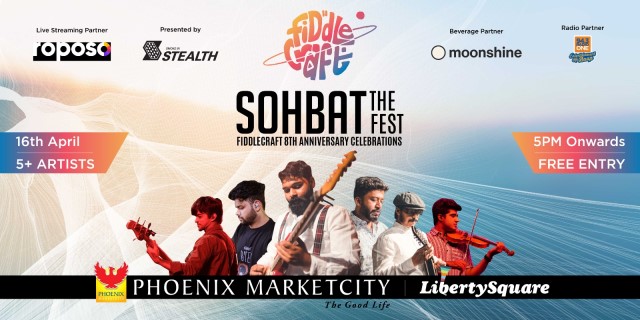 A band with no limitations when it comes to music. Be it Sufi, punk, desi, or rock, Pune-based pop-rock band Fiddlecraft covers it all. With over 200 originals composition, and breath-taking live performances the band has managed to take a place in the hearts of those who witnessed the acts.
This weekend Phoenix Marketcity might be the perfect place if you are looking for an escape from the mundane hubbub. For the lovers of rooted indie music, the vibes of Fiddlecraft will offer a respite. The band is all set to celebrate its 8th anniversary. The budding fusion band has Gaurav Kadu, Sudeep Shetty, Raj Sali, Kartik Tarte, Charu Vikram Singh, and Dev Verma as members. The energy and passion that the band brings to their music are infectious and will leave the audience completely engaged and entertained throughout the entire show.
Whether you're a die-hard fan of fusion rock music or just looking for an exciting evening of live music, Fiddlecraft's performance at Phoenix Marketcity, Pune is an event that should not be missed. It is an opportunity to witness a truly talented band showcase their unique sound and leave you with an unforgettable experience.
Date: Sunday, 16th April 2023
Venue: Liberty Square, Phoenix Marketcity, Pune
Time: 5:00 pm Onwards
Entry Free