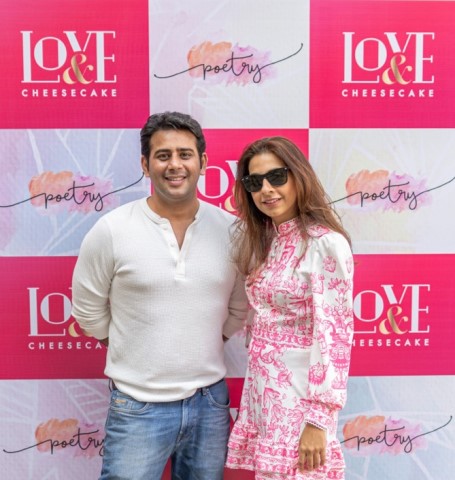 Mumbai's favorite all-day neighborhood-style café and dessert bar chain, Poetry by Love and Cheesecake opened at two locations in Pune – Balewadi High Street and Koregaon Park this November
PUNE: Mumbai's popular café and dessert destination has expanded its wings to Pune with two new outlets in Balewadi High Street and Koregaon Park. Both Poetry by Love and Cheesecake outlets are open from 8 am to 12 midnight and serve breakfast, lunch & dinner 7 days a week with an aim to become warm, hospitable hangout spots for guests of all ages in Pune. The beautiful new outlets have an exciting all-day menu that includes a wide selection of all-day breakfast dishes comprised of eggs, pancakes, waffles, handcrafted small plates, sandwiches, salads, grills, and main course. Poetry also serves a very wide range of vegetarian, gluten-free, and vegan options, baked products, and exceptional coffee. Poetry's fresh-pressed coffee, appetizing bites, and delicious array of treats blend perfectly with the charming seating areas adorned with books, flowers, and cozy corners to read, work or relax. They also offer beverage alternatives to coffee at their in-house juice and smoothie bars at both outlets. Both the Balewadi High Street and Koregaon Park outlets are pet-friendly, so be sure to bring your furry friends along.
In 2016, the brand introduced 'Poetry', a lively all-day neighborhood-style cafe that serves American-European fare and classic beverages in understated digs. Patrons can now experience the brand's signature warmth and hospitality, stylish interiors, reasonable pricing, and versatile menu at 21, GF, Balewadi High St, Laxman Nagar, Balewadi, Pune, and Winterberry Purple, Lane No. 8, Ashok Chakra Society, Meera Nagar, Koregaon Park.
The group's famous dessert arm Love and Cheesecake has been serving excellent quality baked goods for over a decade. What started off as a 300 sq. ft. experimental kitchen in 2012, has today grown into one of Mumbai's top dessert destinations patronized by top actors, film personalities, industrialists, and media professionals.
Poetry by Love and Cheesecake in Balewadi and Koregaon Park represent the brand's 23rd and 24th outlets in India. Across their outposts in Mumbai, Delhi, and Pune, founders Ruchyeta Bhatia and Chef Amit Sharma have curated an impressive menu of 72+ unique flavors- from delectable cheesecakes and cakes to baked goods and confectionery.
Earlier this year, the brand launched Poetry by Love and Cheesecake in DLF Cyber Hub, Gurugram, and Love and Cheesecake in Delhi's Defence Colony. This latest expansion to Pune is part of their bold growth plan to spread across the country as they celebrate 10 years in business.
Co-founder Chef Amit Sharma said,
"We are thrilled to bring Poetry by Love and Cheesecake to Pune! We have always been deeply passionate about offering delicious, high-quality, reasonably priced food and desserts to our patrons. With these store openings, we are incredibly excited to bring our favorite menu staples such as the Full English Breakfast, the Hash Brown Potato Pancakes, Truffled Eggs, French Toast & the Ham & Cheese Croissant to customers in Pune. Our _ and _ are cult favorites and are sure to be relished at the Balewadi and Koregaon Park outlets. As always, our food and desserts are carefully crafted with thought, care, and lots of love."
Co-founder Ruchyeta Bhatia added,
"Expanding to Pune has been on our agenda for a while now. We are so excited to bring our cozy cafés to this city! Our topmost priority is serving fresh, natural, delicious food with love. Going beyond our food, we've also created beautiful spaces for customers to enjoy our curated collection of comfort food and decadent desserts. With airy, well-lit interiors and a warm ambiance, we offer the perfect hangout spots where everyone feels loved and welcome. Customers can expect attentive service, sumptuous food, and a relaxed vibe at Poetry by Love and Cheesecake in Balewadi and Koregaon Park."
On December 3rd, 2022, the brand will be celebrating National Cheesecake Day in style with tempting offers across all their Poetry and Love and Cheesecake outlets in Mumbai, Pune, and Delhi. Valid for one day only, the brand is offering their signature, mouth-watering cheesecake slices at Rs.100 per slice and a jaw-dropping discount of 50% off on all cakes.