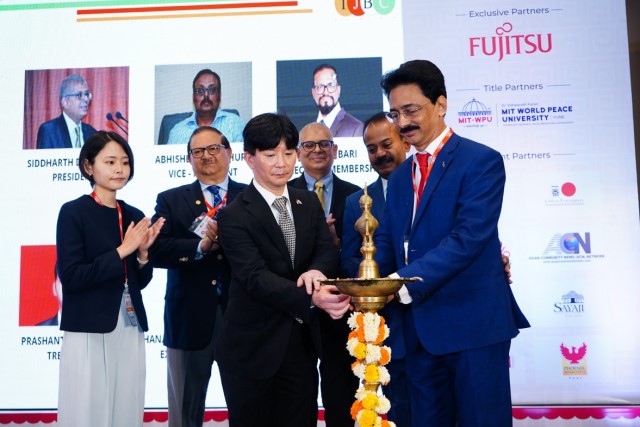 PUNE: Toshihiro Kaneko, the Chief Consul, Consulate of Japan in Mumbai, stressed that the Japanese government considers Maharashtra as a power-house of the Indian economy and was working for the development of certain projects, which would create efficient and environment-friendly transport infrastructure in the state. Chief Consul Kaneko made the remarks during the inaugural ceremony of 'The indo-Japan Business Conference as part of 'Konnichiwa Pune 2022' at Hotel Sayaji on Friday. Konnichiwa Pune 2022 has been organized by the Indo-Japan Business Council with support from the Consulate of Japan in Mumbai.
Dr. Ravikumar Chitnis, Vice Chancellor, MIT World Peace University, IJBC President Siddharth Deshmukh, Vice President Abhishek Choudhury, its Past President Anil Hatkar, Japan International Cooperation Agency India (JICA) representative Mario Kato, Sachin Kalse from Fujitsu, Onkar Bari, Prashant Khinvasara and Shefali Tiwari from IJBC, were present on the occasion.
"I emphasize that the Japanese government considers Maharashtra a powerhouse of the Indian economy and Pune is a part of it. Quality infrastructure in Maharashtra, which the Japanese government has been working on very hard, is another growth story waiting to happen," Kaneko said.
To elaborate on his point, the Chief Consul gave examples of five projects – Mumbai-Ahmedabad Bullet Train, Colaba-Seepz Metro 3 in Mumbai, Mumbai-Trans Harbour Link, Delhi-Mumbai Dedicated Freight Corridor, Delhi-Mumbai Industrial Corridor, which are coming up in the state. "All these projects together will create efficient, smooth, and environment-friendly transport infrastructure for further economic development in Maharashtra," added Kaneko. The Chief Consul also said that the Indo-Japan relationship, which was celebrating the 70th year of its diplomatic relationship, was a key to the "stability and prosperity" of the international community.    
Deshmukh said that it was the fourth edition of Konnichiwa Pune and it was special to host the event during the 70th anniversary of Indo-Japan diplomatic relations and the emphasis was on people-to-people connections, including education and student exchange.
Chitnis said that India and Japan were connected through Buddhism 1500 years ago and that business would happen if we understand the cultures.
A video message of Shishir Kothari, Commercial Representative, Embassy of India in Japan, was also shown and he praised IJBC for hosting 'Konnichiwa Pune 2022'.
As part of Konnichiwa Pune, the Indo-Japan Education conference will take place on Saturday at the MCCIA. The Phoenix Marketcity in Viman Nagar will host cultural events, which will see performances by Japanese and Indian artists, on Saturday and Sunday from 3 PM.