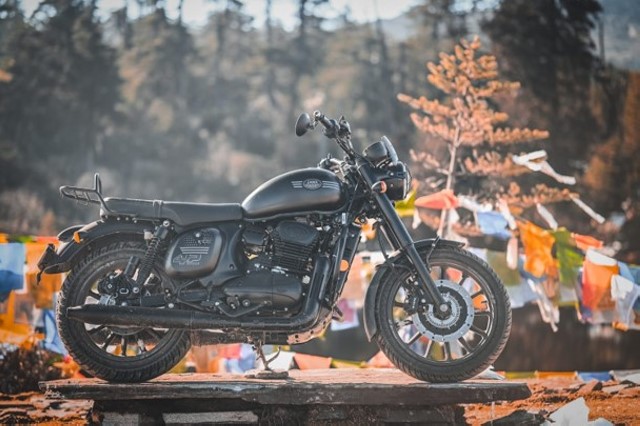 Limited to 100 units, the special edition is made exclusively for Arunachal Pradesh and the neighboring region
INDIA: Famous for its pristine natural beauty and vibrant culture, the state of Arunachal Pradesh is also a motorcycling heaven that remains largely unexplored. To celebrate this spirit of the region, Jawa Yezdi Motorcycles has come up with a special Jawa 42 Tawang Edition, exclusively for customers from Arunachal Pradesh and the neighboring regions.
The special edition motorcycle, limited to 100 units, was unveiled at the Torgya Festival in Tawang by Mr. Tsering Tashi, MLA Tawang, Arunachal Pradesh, Mr. Sonam Chombay, Commissioner to CM, and Mr. Oken Tayeng, Chairman – Adventure Tour Operator Association of India, NE Chapter. The officials also handed over special edition motorcycles to select customers.
Based on the Jawa 42 Sports Stripe Allstar Black, the Tawang Edition takes inspiration from Lungta, the mythical wind horse, which is part of legends from this region and symbolizes prosperity and good fortune. The motorcycle features a Lungta motif on the fuel tank and front fender along with inscriptions inspired by the region across body panels all around. Every motorcycle also gets a unique numbered bronze medallion to mark the special edition units. This motorcycle retains the 293cc liquid-cooled, fuel-injected engine that delivers 27.33 PS of power and 26.84 Nm of torque, featuring cross port technology for class-leading performance.
Marking this occasion, Mr. Ashish Singh Joshi, CEO of Jawa Yezdi Motorcycles, said, "As motorcyclists, we have been in love with the breathtaking vistas and amazing roads that Arunachal has to offer. The rich culture and the associated legends make the ride enriching and that's exactly what we're honoring with the Jawa 42 Tawang Edition. The Lungta signifies well-being, and we wish riding here to be a fulfilling experience for everyone. The rewards of riding hidden in every corner make this a paradise for every Jawa and Yezdi rider in the country."
The Torgya festival provided a befitting backdrop to the unveiling of the Tawang Edition. This festival is celebrated in Tawang by the Monpa community of Arunachal Pradesh to welcome a healthy and prosperous new year. The locals celebrate this festival to ward off external energy from the earth that can cause harm and natural calamities otherwise. The festival features traditional acts of dance and worship by the locals, making for a colorful spectacle spread over two days in the beautiful Tawang region of Arunachal Pradesh.