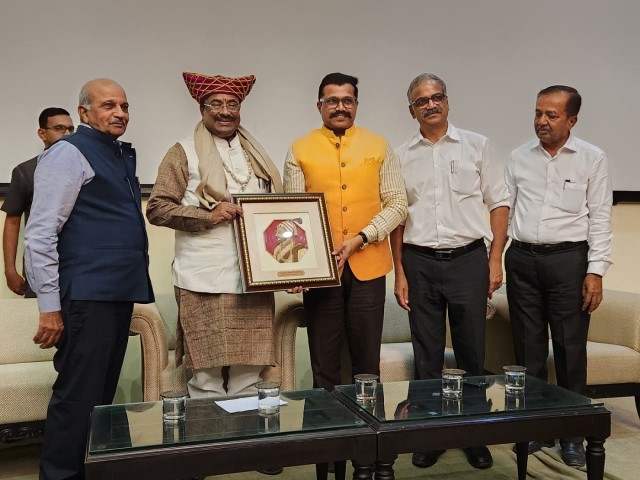 PUNE: "State Government to launch the currency used in Chhatrapati Shivaji Maharaja's era as a Souvenir to mark the 350 years of his Coronation Ceremony", announced State Cultural Affairs Minister Sudhir Mungantiwar during his visit to Shivsrushti in Ambegaon (Budruk) today. Here, he interacted with the representatives of various educational institutes of the city. He made an appeal to them to bring as many students as possible to visit Shivsrushti to create awareness about Chhatrapati Shivaji Maharaj's life. Trustees of Maharaja Shivchhatrapati Pratishthan including Jagdish Kadam, Vineet Kuber, and Sunil Mutalik were present on the occasion along with Anil Pawar, Administrator of Shivsrushti.
"We have spoken to Union Finance Minister Nirmala Sitharaman about launching 'Hon' – the currency from Chhatrapati Shivaji Maharaja's era as a Souvenir to commemorate 350 years of the coronation ceremony. This souvenir will have the Hon in gold, silver, and copper formats," Mungantiwar informed. "From 9th August, a special Public Announcement System is being installed at the Mantralaya Complex in Mumbai. It will have a daily announcement related to Chhatrapati Shivaji Maharaj including the importance of the day, information about important historical events related to Chhatrapati Shivaji, and so on at 9.45 am every day," he added.
He further informed that the State Government is looking at undertaking over 100 initiatives to commemorate this momentous occasion of 350 years to the coronation ceremony including performances of 'Janata Raja' – a mega play on the life of Chhatrapati Shivaji in all districts of the State. The emphasis will be on increasing public participation in the initiatives related to this great Maratha warrior king. Programs will also be organized in other states in India and some other countries like Dubai (UAE) and England.
"I am glad to inform you that the British Government has agreed to return to us the 'Tiger Nails' (Wagh Nakh) used by Chhatrapati Shivaji Maharaj and has made a written communication about the same. Now, we are following up with the 'Jagdamba Sword' as well, so that both these precious weapons used by the King can be brought back to Maharashtra. The State Government is also considering setting up a massive museum in Mumbai. Identifying 30 acres of land for the project has already been initiated. According to an estimate, Maharashtra has over 88,000 historic items which can be a part of this museum," added Mungantiwar.