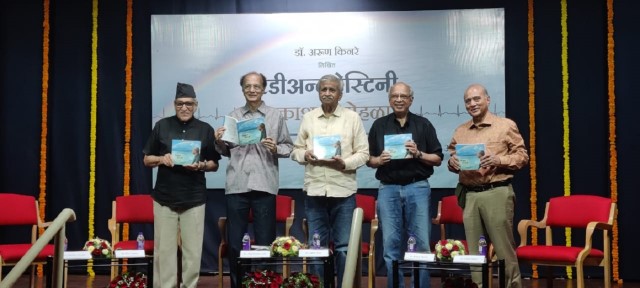 PUNE:  The Marathi-translated book 'Diary of a Doctor Patient' was released today at Symbiosis Vishwa Bhavan at the hands of veteran actor Dilip Prabhavalkar, well-known filmmaker Dr. Jabbar Patel, legendary theatre and film actor Dr. Mohan Agashe, famous playwright Satish Alekar in the presence of Smita Kinare, acclaimed educationist and Chancellor of Symbiosis International University Dr. S B Mujumdar and other dignitaries.  
"We watch or read about superheroes in movies and books, but I think it is the first time in my life that I have had the privilege of getting to meet one in real life. Dr. Arun Kinare is nothing short of a real-life superhero who has battled multiple medical calamities and come out victorious. It is a day I shall always remember" said Veteran Actor Dilip Prabhavalkar at the release of the Marathi book 'Radiant Destiny' a medical journey of Dr. Arun Kinare, our city's well-known radiologist.
At the book release, Satish Alekar spoke about his long association with Dr. Arun Kinare and how he had always drawn positivity from him and his other morning group doctor friends. He said beginning his day with these doctor friends for the last 40 years has changed the way he looked at life and all his positivity came from them"
Speaking at the ceremony Dr. Jabbar Patel said, "I think 'Radiant Destiny' is more of a thriller than a medical journey. It shows how at every instance when Dr. Kinare faces adversity; he fights it out and comes back stronger. He compared Dr. Kinare to James Bond, who no matter what, always wins."
"What is creditable is not just that as a patient he had to endure countless difficulties, but at the same time he had to keep a tab on what others feel and think about him and how they see him as these things plan a huge role on one's psychology especially when one is healing."
Dr. Mohan Agashe said, "One who does not believe in miracles is not a realist and I feel that Dr. Kinare is an epitome of this. I have read autobiographies of people who have experienced miracles beyond medicine; however, those were restricted to  1 or 2 illnesses. Here, however, Dr. Arun Kinare is a series version like what is available on today's OTT platforms"
Before reading the book I thought I knew Dr. Arun Kinare, but after reading the book I realized I did not know him and this sentiment is sure to resonate with all readers who today think they know Dr. Kinare." He added further.
In his medical journey, Dr. Kinare has had 14 angiographies, 5 angioplasties, 2 open heart surgeries,1 colostomy, 2 pacemaker surgeries, 1 laser surgery for fungal infection of the heart, a paralysis attack, and many syncopal attacks. Expressing his gratitude, Doctor Kinare said that his journey was eventful but at every step there were God sent people to help him get through the situation. He said he will always be thankful to his family, his doctors, his friends, his colleagues, his staff, and all his well-wishers as it was because of them that he stands tall today.
During the ceremony, Dr. Jabbar Patel, Dr. Mohan Agashe, and Dilip Prabhavalkar drew similarities to the varied characters they have relayed as patients and how difficult these were even though they were acts and not real-life situations faced by Dr. Kinare. The event also saw Dilip Prabhavalkar read excerpts from the book giving a peek into the book for all to enjoy. The book has been translated from English to Marathi by Santosh Shenai and has been published by Ulhas Latkar of Ameya Prakashan. The program was presented by Dr. Mandar Paranjape.