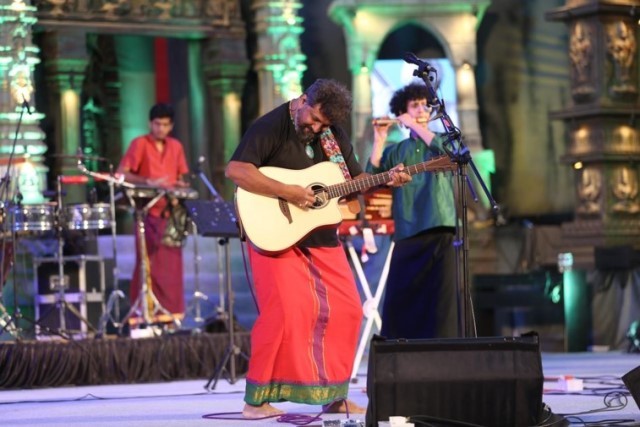 PUNE: The second day of Punit Balan Group presents and Dr. Vasantrao Deshpande Prathishthan and MIT World Peace University's School of Liberal Arts organized Vasantotsav 2023 began on a scintillating note with the performance by Raghu Dixit Project Band.
Cladded in typical South Indian attire, the band led by Raghu Dixit, comprising Gautam Hebbar (Flute), Joman Jacob Joseph (Drums Set), Naresh Nethan (Base Guitar), Rahul Rajesh Mellam (Percussion), Sanjay Kumar and R Sitaraman (Guitar), and Akshay Ganesh (Violin), left the audience in a spell-bound at the Surykant Kakade Farms in Kothrud.
The Raghu Dixit Project Band is a well-known Band in India, which has its own identity and has performed across 30 cities of the world and has been recognized by the prestigious Sydney Opera House.
"The audience is very kind here," Raghu Dixit said as the Band started with a Kannada song "Parseva", based on how the Almighty helps people in their most disastrous times.
The renditions of songs in their own style infused energy in the audience, who were thrilled by the unique performance, where they presented Kannada songs like
"Kodagana koli gunta", written by Sant Shishinada.
Another Kannada rendition "LokadaKalaji" was presented by the Band and the audience danced to the tunes.
Raghu Dixit and the band performed the "Ambar" song, which he described as his favorite, and then performed "Maan Lagar Fakir Mein", penned by Sant Kabir, as it was an evening to remember for the ages.
The "Jeevan Jeevan Dariya" song from the film 'Gully Boy' also was applauded by the capacity crowd as the Band performance thrilled them.
"My heart is full today and this is the best audience," Raghu Dixit said before presenting the concluding song "Mysore se Ayee", which was the first song composed by Raghu Dixit.