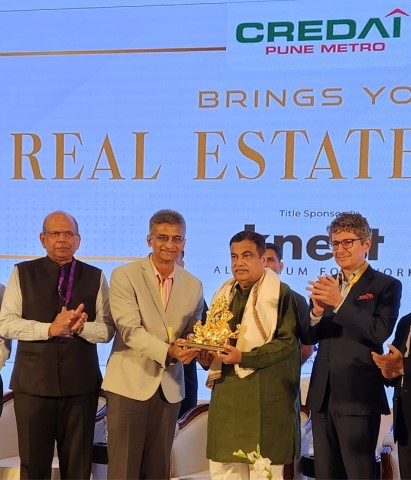 PUNE: Shifting focus from large-size homes to small-size units, using new technologies, adopting new construction methods, and application of innovative construction materials will significantly help in reducing the cost of homes, Union Minister for Highways Nitin Gadkari said on Friday. Cost of land and cost of construction are the two factors that have a bearing on the prices of homes and these two must be reduced to make homes affordable for people, Gadkari said.
Addressing the 40th Annual General Meeting of the Confederation of Real Estate Developers of India (Credai) Pune Metro Gadkari also highlighted the need for decentralization from Smart cities to Smart villages which can be connected with cities with an efficient road network.
Maharashtra Minister for Higher Education and guardian minister for Pune Chandrakant Patil, Credai Pune Metro President Ranjit Naiknavare, Credai National President Boman Irani, Credai Pune Metro Vice President Aditya Javdekar, Credai Pune Metro Convenor, PR Kapil Gandhi and office bearers of Credai Pune Metro were present on the dias at the event.
Gadkari said a minuscule percentage of the country's people can afford houses with price tags of Rs 1 crore or more and the country's masses should be at the centre of approach to housing construction. He gave many examples of how the cost of construction for infrastructure projects was reduced by his ministry by applying innovative construction technology and materials. "Same concepts can be extended to housing construction to reduce prices of homes," he said.
"Demand pressure is making it possible to sell high-priced homes easily, but developers should shed this complacency and look and build homes for common people," Gadkari added.

Gadkari announced his ministry will start in three months flyover projects for Pune with an investment of Rs 55,000 crore. It is important to think about the idea of New Pune with good road connectivity and reduce pressure on city infrastructure, he added.
Chandrakant Patil noted the recent and proposed developments in Pune's infrastructure. Metro railway is fast becoming a preferred way of public transport. He said e-buses and electric auto rickshaws are also on the cards to provide last-mile connectivity. He said the project for 24X7 water supply for Pune is nearing completion and so are sewage treatment plants which will make treated water available for agriculture as well as industry.
Naiknavare lauded the effort by the government to streamline and regulate construction businesses and stressed the need to bring various government bodies within the ambit of legislation such as the Real Estate Regulation Act.
Irani highlighted the need for developers to collaborate rather than compete so that the customer benefits. He also stated Credai's effort at green construction, transparency, and inclusion of women in the real estate business. Mr Irani also pointed out that the issue of duplication of Goods and Services Tax for redevelopment projects also needs to be addressed, he said.
Aditya Javadekar, vice president of Credai Pune Metro proposed a vote of thanks. Kapil Gandhi moderated the program.