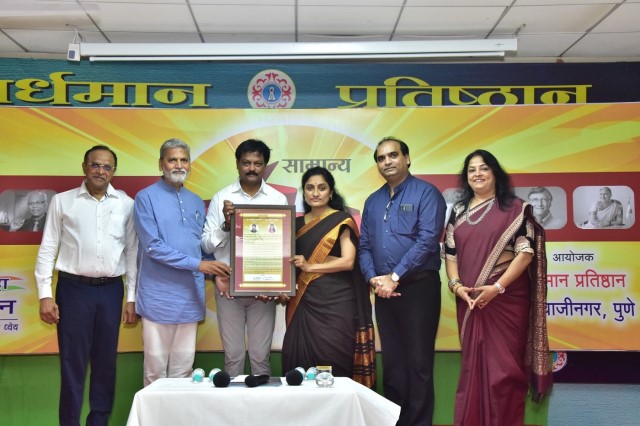 Unfolding the journey of a Pune couple, Dr. Abhijit Sonawane and Dr. Manisha Sonawane also known as 'Doctors for Beggars' through an interactive program
PUNE: Shedding light on his early challenges as a doctor, Dr. Abhijit Sonawane shared instances about his journey along with his wife, Dr. Manisha Sonawane of how they started treating the roadside ailing people and being called as 'Doctors for Beggars.' He expressed, "With the noble intention of aiding beggars, I quit my well-paying job and embarked on a journey using my bike as a mobile medical clinic, providing essential medical check-ups, medication, etc. At first, some of the beggar patients mistook me for a fraud, threw sticks at me, or even spat on me. But that's how I stepped into the realm of social work with a significant understanding of empathy and sensitivity." 
Pune Couple, Dr. Abhijit Sonawane, and Dr. Manisha Sonawane known as "Doctors for Beggars' were recently interviewed in a program called 'Saamanya Te Asaamanya.' It was jointly organized by P M Shah Foundation and Vardhaman Pratishthan and was held at the Vardhaman Pratishthan on S B Road, Pune.
Dignitaries like Adv. Chetan Gandhi; Director of P M Shah Foundation, Vilas Rathod; President of Vardhaman Pratishthan, Atul Shah; Director of Chandukaka Saraf Pvt. Ltd., Saraswati Mehta and others were also present on the occasion. The organizers also extended their appreciation to Dr. Abhijit and Dr. Manisha Sonawane by presenting them with a certificate of honor. In addition, Vilas Rathod announced a donation of Rs 51,000 to support the admirable work of Dr. Sonawane. Following this, an interview with the couple was conducted by Monika Joshi and Adv. Chetan Gandhi.
"Today we have a family of around 1100 people outside the four walls of our home. Through this, we have bonded with many mothers, fathers, sons, daughters, uncles and aunts. While it may be challenging to nurture these relationships, the inner satisfaction that we get at the end of the day is truly invaluable," expressed Dr. Manisha Sonawane.
Dr. Abhijit Sonawane shared that they are encouraging the beggars to acknowledge their abilities and skills while empowering them to do hard work through employment opportunities. Furthermore, special efforts are being made to create a place and gain acceptance for their presence in society. "With the help of the society, we have successfully rehabilitated 175 beggar families and the education of 52 children is being actively supported," shared Dr. Abijit Sonawane.
Dr. Abhijit and Dr. Manisha are serving patients in almost 60 different areas in Pune. Additionally, they are providing treatment services to patients who need hospitalization, including tests and treatments in sonography, heart diseases, diabetes, cataracts, etc.
"Today, begging has turned into a business. 75% of beggars in the city are professional beggars and only 20-25% beg because there is no alternative," said Dr. Sonwane. He appealed to everyone to stop giving money to the beggars. If anyone wants to extend their helping hand, they should help the beggars in a way that makes them independent instead of being dependent.
"People like Dr. Abhijit and Dr. Manisha are setting an example of role models and are giving directions to our society. Our program 'Saamanya Te Asaamanya', is an attempt to understand their journey in the form of this interview," expressed Adv. Chetan Gandhi.
Monika Joshi moderated the program and Adv. Chetan Gandhi gave the introduction.