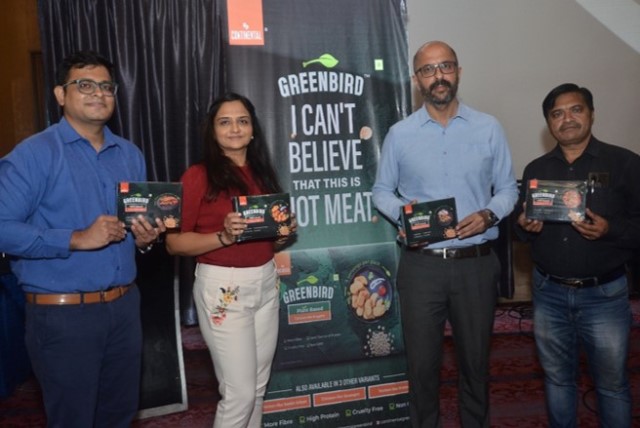 Offers a range of quality plant-based meats with Chicken-like Nuggets, Chicken-like Seekh Kebab, Chicken-like sausage, and Mutton-like Keema
Aims to cater to the growing market for a sustainable lifestyle and dietary choices
PUNE: Globally there is an increase in awareness among consumers about sustainability, environmental impact, industrial meat packing, and flexitarian diets. In the past few years, the popularity of plant-based meat has been gaining momentum globally as well as in India. The pandemic has propelled the growth further. Today, individuals are conscious of their food consumption, thereby making the concept of a plant-based lifestyle a new healthy trend to adopt. Based on industry research and growth potential, Continental Coffee (CCL), a home-grown coffee brand, has launched its plant-based brand 'Continental Greenbird' in India. Continental Greenbird enables its consumers to make choices that are sustainable to the globe without losing the taste of meat. The brand Continental Greenbird was first launched in Hyderabad in July 2022 and is now available in Pune.
As per industry research, India's meat substitute market is estimated to be around 300 Cr largely driven by consumer-packaged food. Market Size is estimated to touch around 3500 crores in 3 years*.  The concept of plant-based meat is drawn from the growing awareness among consumers about sustainability. Additionally, the climate impact on food choices and animal welfare are some of the key reasons behind the development of plant-based meat alternatives. Plant-based meat is also healthier than regular meats as they are free from cholesterol and trans-fat and is non-GMO (genetically modified organism).  
With this launch, CCL plans to tap into the growing consumer set who are looking for sustainable products while bridging the gap between meat cravings and guilt-free habits. With Continental Greenbird, CCL will initially offer four plant-based meat varieties: Chicken-like nuggets, Chicken-like seekh kebab, Chicken-like sausage, and Mutton-like keema. All their products are made from plant-based proteins which are derived from Green peas, Chickpea, and in the case of Keema from soya. This is done to create a real meat-like taste and texture and also maintains an excellent flavor. As per consumer understanding, people in Pune are open to such innovative concepts in the food category. With Continental Greenbird, CCL will now bring to consumers the same taste, feel, and texture of meat but without any cruelty to animals.  
These protein-rich plant-based products are perfect for non-vegetarian consumers who want to make healthier dietary choices without giving up the taste and texture of meat. It also makes for a great offering for vegetarians who are exploring options to increase their protein and fiber intake. These products also fit in well with those consumers whose meat consumption is restricted by religious reasons, giving them now a whole new opportunity for guilt-free snacking without any compromising on taste.
Commenting on the launch of Continental Greenbird, Saurabh Khurana – Business Head, Continental Head, Continental Coffee said, "The market for plant-based meat is growing exponentially and we at CCL are certainly proud of the future we are paving for everyone to enjoy plant-based foods, contributing to a more sustainable future. The pandemic has propelled the growth of this segment in the country. There has been a positive stride in this category where a large set of consumers are adopting vegan/plant-based lifestyles. This has inspired us to launch Continental Greenbird to accelerate the shift towards sustainable and healthy sources of food. With Continental Greenbird, we offer delicious and nutritious products made from plant protein ingredients, enabling consumers, particularly those who make conscious choices about their diet and how it impacts the planet and their health, to find quality solutions to match their sustainable lifestyle"
Speaking on the health benefits of plant-based meat, Reina Shukl, Nutritionist, at Continental Greenbird said, "After the pandemic, health has become a priority for all. Conscious eating to improve quality of life is the new mantra and plant-based food is the first revolutionary step towards mindful eating. Plant-based foods are protein-dense and fiber-rich. They have no cholesterol or trans fats which supports our heart health. Iron folate, magnesium, and potassium, and Vitamin A, C, and E help increase immunity and support gut health making weight loss plan easy. They also reduce inflammation in the body and help lower the chances of diabetes and obesity. Continental Greenbird has introduced a delicious range of plant-based products made from Greenpeas, chickpeas, and Soya. The taste, feel and texture is just like meat, but made with the goodness of meatless protein and fiber."
Continental Greenbird range starts from Rs. 295 for 260 gm and is currently available in Grocery stores and Modern Trade outlets across Pune, Hyderabad, and Chandigarh. The product can also be ordered from the company's online portal Continental Greenbird website and is also available on eCommerce platforms like Big Basket in Pune.