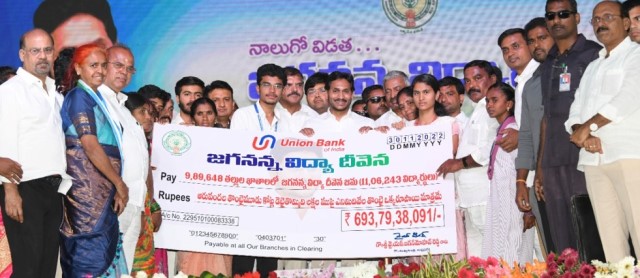 SO FAR, GOVT SPENT RS. 9,051 CR TOWARDS 100% FEE REIMBURSEMENT TO 24.74 LAKH STUDENTS UNDER THE 'VIDYA DEEVENA SCHEME'
'85,000 STUDENTS HAVE BEEN RECRUITED THROUGH CAMPUS PLACEMENTS DURING 2021-22': CM YS JAGAN
GOVT CLEARS ARREARS OF RS. 1,778 CR BY THE PREVIOUS GOVT UNDER FEE REIMBURSEMENT
MADANAPALLE ANNAMAYYA DISTRICT: Massive crowds gathered to witness the Chief Minister of Andhra Pradesh, YS Jagan Mohan Reddy, at Madenapalle, Annamayya district, as he disbursed the 'Jagananna Vidya Deevena' scheme amount of Rs. 694 Cr (as fee reimbursement for July-September 2022 quarter), through DBT to 11.02 lakh beneficiary mother's accounts. During his interaction with the crowd, the CM stated that "Education is the only greatest asset we as the govt can give to the younger generation of our state" The previous TDP regime kept the fee reimbursement pending for years. In light of it, today, Rs 1,778 crore of arrears have also been cleared by the government. The amount is being credited into the accounts of the mother of the beneficiaries so as to enable them to confront the college management to ensure colleges/educational institutions are held more accountable.
Speaking further on how well AP students have fared during the last three years, the Chief Minister highlighted the number of campus placements during 2021-22. The Chief Minister noted that around 85,000 students had been recruited through campus placements. "That is two-fold to what the TDP government had achieved. During the TDP regime, only 37,000 students were recruited through campus placements. We are proud to announce that today the number is 2.5 times higher, which has been accomplished through significant educational initiatives taken for a child's better development."
Besides the 'Jagananna Vidya Deevena', to help the students meet their lodging and boarding expenses and not put the burden on their parents, the government has also been reimbursing the mess and boarding charges in two installments every year under the 'Jagananna Vasathi Deevena'. For ITI students, Rs 10,000 is being paid per year, while it is Rs 15,000 for polytechnic and Rs 20,000 for a degree, engineering, medicine, and other professional courses. The government until today has spent Rs. 3,349 Cr for 18.77 lakh students across the state. The total amount (including the previous dues disbursed by the CM Jagan's government) is Rs. 12,401 crores which include 'Jagananna Vidya Deevena & 'Jagananna Vasathi Deevena,' which is a massive push to lakhs of students pursuing higher education in the State.