PUNE: EuroKids, India's most trusted preschool brand, celebrated Navratri, the festival of vibrant dance, colorful attire, and cultural richness, across 70+ centers in Pune. The celebration aimed to instill values of unity, cultural appreciation, and tradition in young minds, combining cultural immersion and early learning through engaging activities.
Over 5,000 students and parents participated in the celebration, emphasizing the importance of preserving age-old traditions and building strong foundations for the leaders of tomorrow. EuroKids successfully combined cultural immersion and early learning through a series of engaging activities, including child-friendly Garba and Dandiya dance sessions, a lively photo booth with Navratri-themed props, and a brief child-friendly Navratri puja and aarti session.
KVS Seshasai, CEO of, the Pre-K Division, Lighthouse Learning (EuroKids), said, "We believe in fostering the holistic development of children, which encompasses instilling a sense of cultural awareness and appreciation. Navratri provides an excellent opportunity to educate children about our rich cultural heritage, the significance of traditions, and the values of unity and harmony. Through these meaningful celebrations, EuroKids remains dedicated to instilling these essential values in our future leaders."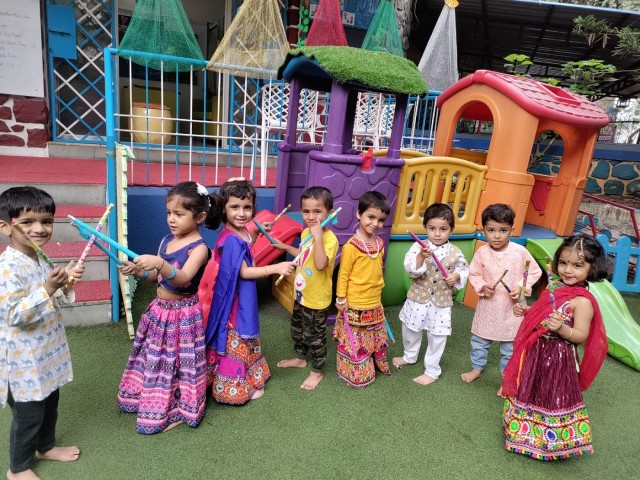 EuroKids recognizes that teaching children about unity in diversity at an early age is essential for nurturing open-minded, empathetic, and culturally aware individuals. With its well-designed EUNOIA curriculum focusing on multiple domains of learning, EuroKids ensures that children receive an all-round developmental experience that empowers future generations.
EuroKids is part of Lighthouse Learning, India's leading Early Childhood & K-12 Education group backed by KKR Capital. The group is committed to delivering the Joy of Learning to students in early childhood education and K-12 segments. With its portfolio of brands, the group works towards delivering a robust foundation for future generations with innovation in pedagogy, the use of appropriate technology, and a focus on child safety.