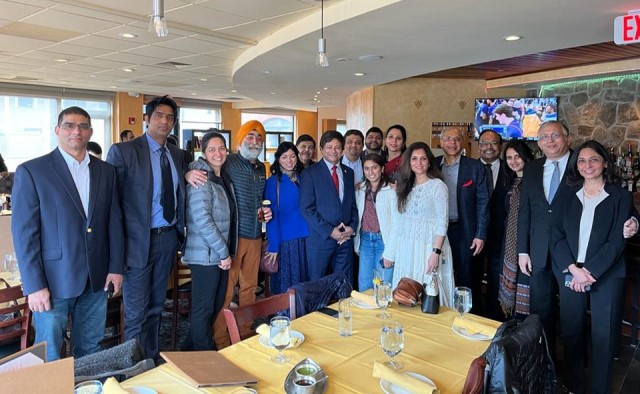 BOSTON: It was a lovely Sunday afternoon when the New England Indian community welcomed, Congressman Shri Thanedar in a Meet and Greet hosted by the President of the US India Security Council, Mr. Ramesh Vishwanath Kapur, at the Clay Oven restaurant in Lexington, MA.
Speaking at the event, Mr. Ramesh V Kapur welcomed Congressman Thanedar to New England. He applauded the newly elected Congressman's vision for his district- which comprises 75% Democrats and the heaviest concentration of African-Americans.
Mr. Kapur briefly touched upon his work with Vice President Kamala Devi Harris Office on getting broadband access to the inner cities across the United States and expressed his interest to work with Congressman Thanedar to bring this technology to Michigan. He also said the importance of mobilizing the younger generation to get actively engaged in politics and create a difference in the communities and beyond.
Congressman Thanedar in his remarks swayed the spirits of the crowd several octaves through his journey as an immigrant to the United States to pursue his Ph.D. at the University of Akron, his work in the chemical and pharmaceutical industry before starting successful entrepreneurial ventures, and his work in public service, as an elected Member of the Michigan House of Representatives from the 3rd district and as a Congressman from Michigan's 13th Congressional District, at present.
Mr. Abhishek Singh and Vice President Mr. Sanjay Gohkale, of the Federation of Indian Association, New England supported the meet and greet.
Furthermore, the event was graced by the presence of many prominent business and community leaders like Mr. Amar Sawhney, Mrs. Deepika Sawhey, Ms. Priya Samant, Ms. Vaishali Gade, Dr. Balchandra Parulkar, Dr. Rahul Datar, Dr. Sumita Gokhale, Mr.Ashok Patel, Mr.Deepak Rathod, Mr.Bhaskar Patil, Ms.Susan Whitehead, Mr. Anand Sharma, Ms. Sonali Doshi, Mr. Santosh Salvi, and young high school students.