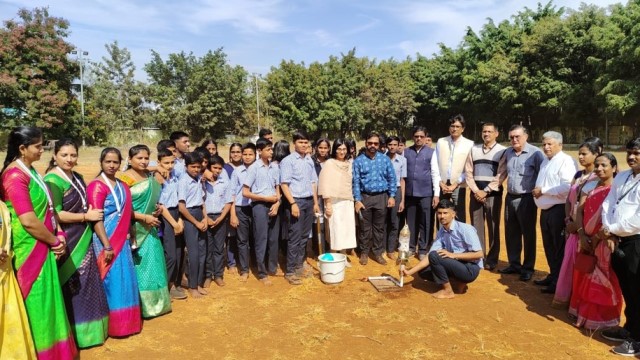 PUNE: A select group of 120 meritorious students from five government schools showcased their talent and excellence in the areas of space science and technology at the Annual Science Fair. These children were selected from around 2,000 students who have been going through particular STEM (Science, Technology, Engineering, and Mathematics) education programs in five government schools.
Smile Foundation has been conducting a special project named 'Promoting STEM Education among children' under its Mission Education Programme. The project, operating with support from Atlas Copco India Ltd., has been focusing on 1,965 children across five government schools in the Pimpri-Chinchwad Municipal Corporation (PCMC) area of Pune. Most of the children come from economically weaker families and socially disadvantaged communities.
The students created and presented various models, which they had developed under the guidance of Scientists and Trainers in space science and technology. Activities during the fair included aero modeling, satellites, launch vehicle display, and rocket launching demonstration, among others which brought excitement to the participants and visitors.
An additional 1,200 schoolchildren from various other schools, along with their parents, visited the annual science fair, organized at Pimple Gurav Secondary School, PCMC.
Vikram Singh Verma, Executive Director, of Smile Foundation said, "If children are introduced to proper STEM educations early, tomorrow they will excel in the emerging domains, besides creating innovations for the society. As children are the future of a nation, these foundational preparations can help them play an important role in nation-building."
Kabir Gaikwad, Corporate HR Head, Atlas Copco India Ltd. said, "STEM education and experiential learning are important for our children for them to develop critical thinking skills and concepts. Together, we should keep innovating ways to help the children learn effectively and grow."
The broad objectives of the 'Promoting STEM Education among children' project are as follows:
Create: Critical thinkers, problem solvers, next-generation innovators, highly skilled team of technical persons
Access to and awareness of multivariate career disciplines
Promote learning through problem and inquiry-based approaches, engage students in hands-on activities
Foster skills: persistence, teamwork, and the application of gained knowledge to new situations
Stimulate curiosity and creativity
Introduce effective pedagogy and resources that enable teachers to enhance their skills in knowledge transfer
The expected outcomes of the projects are:
The shift of students from rote learning to learning by doing
Improvement in academic performance in Science and Math subjects
Increased retention in classes
Increased knowledge of Teachers in STEM Pedagogy