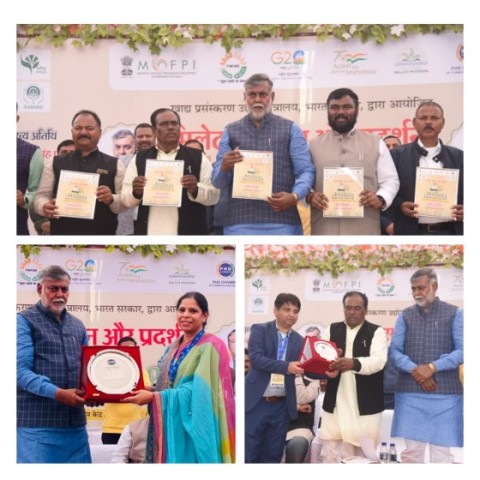 INDIA: The Agribusiness and Food Processing committee and MP state chapter of PHD Chamber of Commerce & Industry in association with The Ministry of Food Processing & Industries inaugurated a two-day Millet conclave cum exhibition at JNKVV, Krishi Vigyan Kendra, Mandla to promote Minor Millets – Kodo -kutki in the region. The Director, of Food and Agri at PHDCCI, Ms. Mili Dubey welcomed The Hon'ble Minister of State for the Ministry of Food Processing Industries and Jal Shakti, Shri Prahlad Singh Patel as the chief guest for the event. This is the first event of the state during the International year of Millets 2023.
During the meeting, the Hon'ble Chief Guest emphasized the promotion of millets from the state and expressed that international markets are ready to be explored and this is the golden opportunity for Indian Millet food processing companies to capture these markets through their unique products. With the Chief Guest, various dignitaries from the region also shared their views to inspire farmers and processors to practice Kodo farming and processing.
A knowledge report prepared by the Agribusiness and Food Processing committee of PHDCCI themed, Millets: Powerhouse of Nutrition was also released in Hindi and English languages by the Hon'ble minister Shri Prahlad Singh Patel.
Various beneficiaries of the PMFME scheme were also awarded grant cheques by Hon'ble Minister.
The first of its kind in the state, a Mobile Millet Van was also flagged off by the Hon'ble Chief Guest. The Van aims to disseminate knowledge to various blocks of the Mandla region.
More than a thousand people attended the event where the experts from Jawahar Lal Nehru Krishi Vishwa Vidyalaya, Institute of Hotel Management Bhopal, NABARD, APEDA, FPOs, and various start-ups shared their experiences enlightening the local producers and processors on the subject.
A live Food station was also set up by the IHM, Bhopal that was much appreciated by the Hon'ble minister. More than thirty stalls were displayed by various beneficiaries of PMFME schemes, Self Help Groups, start-ups, FPOs, the Horticulture department, NABARD, APEDA, and Millet food processors of the region and state.
With the PMFME division of MoFPI, the event was also supported by NABARD and APEDA.