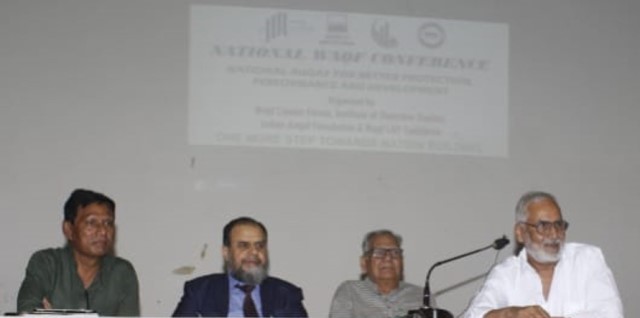 The central government must issue a rebuttal of false propaganda about the Waqf Act
Audit Report Must Be Submitted In State Assemblies
PUNE: The two-day national Waqf conference held in Pune concluded with a resolution about ways forward to utilize the Waqf properties for development and future roadmap. 
Waqf is a permanent dedication of movable or immovable properties for religious, pious, or charitable purposes recognized by Muslim Law.
Conference convenor and former chief commissioner of income tax Akramul Jabbar Khan said, "We will send the draft resolutions to central and state governments. The State Waqf Boards should be made accountable to the government for the socio-economic development of the Muslim community."
The National Waqf Conference titled 'Understanding True Nature and Management of Auqaf for Better Protection, Performance, and Development was held at Azam Campus in Camp, Pune, on November 26 and 27. About 40 intellectuals from various fields across India gathered to brainstorm about the utilization of Waqf properties for the betterment of the Muslim community.
As per the Waqf Assets Management System of India (WAMSI), an e-governance initiative under the aegis of the Ministry of Minority Affairs, Government of India, there are 8.6 lakh immovable and 16,647 moveable properties registered with various Waqf Boards in the states. However, many properties have been encroached on while others are underutilized.
Prof. Z M Khan, Secretary General of the Institute of Objective Studies (IOS), New Delhi, said, "Cash Waqf should be introduced, which will pave the way for the development of properties."
Salim Mulla, president of Maharashtra Waqf Liberation and Protection Task Force, said, "The resolution passed includes the creation of the post of Waqf ombudsman at the center and state to keep a close watch on the waqf boards across India."
Mohammad Afzal Wani, Vice Chairman of IOS, said, "There is a large population that is deprived of education, food, and medical facilities, and Waqf properties can help them." 
Draft Resolution
Ministry of Minority Affairs Govt of India & State Minority Departments should issue a rebuttal of the false propaganda/untruths about the Waqf Act. 
Digitization through wamsi.nic.in needs supervision and rectification of glaring mistakes. Digitization should be real-time, correct, and complete. 
The Central Waqf Council (CWC) should exercise its power of calling for information from the Waqf Boards more regularly and stringently. The CWC is an advisor to the Government of India on Waqf matters, and as such, that institution should further be refurbished, if need be.
State Governments are bound by law to put up in the assembly annual reports about awqaf in their jurisdiction based on the report submitted by the Waqf Boards as provided. Submission of such reports and publication thereof be ensured.
Submission of annual audit reports by the Waqf Boards to the CWC should be ensured. If a Waqf Board (WB) does not deliver, it should be dissolved in the interest of protection of this very important tool of social welfare.
Concerned Waqf Boards should ensure that the legal limit of a total of five years for a property is in their management, and the requirement of annual reports relating to such properties should be strictly adhered to.
Recruitment of staff, outsourcing, prioritization, and formation of local committees as provided under the law should, needless to say, be taken up immediately.
Developmental work as provided under section 32 (4,5,6) of the Waqf Act be taken up in consultation with the local area committees. The objective of development should be the maximization of income therefrom to finance aids, scholarships, etc.
A wide-bodied research cell, comprising experts from various concerned fields, should be formed at the national level with similar bodies at the state level. This body/bodies should be in constant interaction with CWC/WBs as well as Mutawallian and publish the annual report of their activities for the information of the community. Simultaneously this body should elect personnel of eminence to serve as a "Waqf Ombudsman". This institution should be at the national level as well as State level.
An appeal to the community suitably and widely advertised through local management officials/activists for the institution of a Waqf Fund. This is necessary for effectively carrying out the Waqf liberation and development work.